Carolina Pregnancy Center (CPC) is an independent, faith-based, non-profit organization. CPC is funded entirely through private donations of individuals, businesses, churches, and organizations through events, direct mail, and monthly giving. We do not receive any government funding.
Our mission is to help women and families with pregnancy-related issues. We truly want them to experience more life through Christ. When you invest in this ministry, you are investing in lives and bringing hope.  Your return on investment is the lives that are saved and transformed.
Our relationship with our donors is the highest expression of our mutual commitment to the mission of offering help and hope to women facing unplanned pregnancies.
All gifts are tax deductible.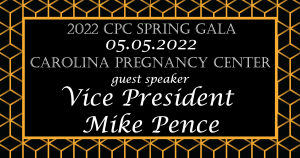 2022 Spring Gala
As we all know, things have looked different the last few years. We are excited about getting back to hosting our big spring fundraiser, but it too will look a little different this year. You will remember that last year we hosted a fun outdoor event at Lake Bowen Baptist Church. This year we are headed back to Spartanburg Memorial Auditorium for our "Spring Gala" instead of having a "Banquet". 
When we were approached by Vice President Pence's people, we could hardly believe it. His convictions run so deep on the issue of life. For years, he has led his family to the March for Life in Washington. He understands the work of crisis pregnancy centers and wants to do all he can to support us. We knew that we had to make a plan where we would have plenty of room to spread out but still keep things cost effective. So…here is the plan.
Instead of a sit-down meal, we will have a pre-reception downstairs in the hall. Heavy hors d'oeuvres will be served. There will be high top tables, along with a few regular round tables. These will be first come, first serve. No reserved tables. This will allow guests to mingle before our program starts upstairs. 
The main program will move to the auditorium with Vice President Pence.
Instead of being a "Table Host" you will be a "Row Host". You will receive 10 tickets to the pre-reception and 10 tickets to the program. The price for a row is $500.
Sponsors and their guests will have an assigned row in the front section.
Following the program, we will have a dessert and coffee buffet for everyone in the foyer of the auditorium. 
We are truly excited about what the Lord is going to do on this very special night. 
Four ways to donate
There are a variety of ways to donate to the Carolina Pregnancy Center.
1.) Online
Giving online is fast, safe, and secure
Click on the "GIVE NOW" button to donate online:
2.) By Mail
Carolina Pregnancy Center
PO Box 5364
Spartanburg, SC 29304
3.) Text to give
Text GIVE to 864-774-0753
4.) Memorials and Honor Gifts
One way to honor the memory of a loved one who has passed or a loved one still living, is to make a donation in their name. If you would like to give a gift in memory or in honor of someone, you may mail it to Carolina Pregnancy Center and simply indicate if it is a memorial or honor gift. Be sure to mention the name of the person you are honoring.
5.) Legacy Gifts
If you would like to leave an impact far beyond your life, consider leaving Carolina Pregnancy Center in your will or estate plan.
Another option to secure the long-term mission of Carolina Pregnancy Center is to name us as a percentage beneficiary of your IRA or other retirement plan assets. These assets can have both income and estate taxes due when given to family members; so many financial professionals suggest giving other assets to family. You may also consider naming us a beneficiary in a life insurance policy.
Thank you for supporting Carolina Pregnancy Center. Together, we will change hearts and save lives.